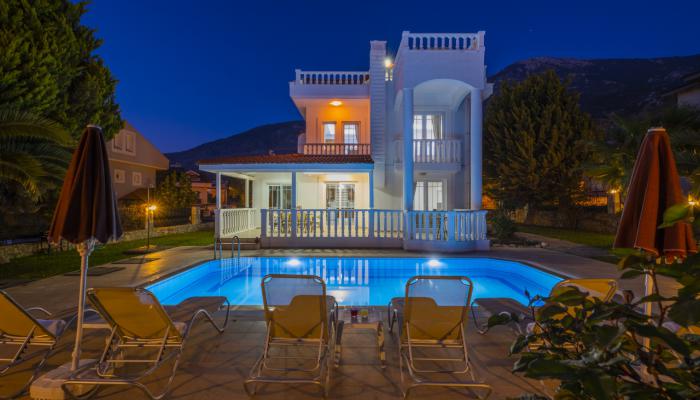 Civan Exclusive Villa
Civan Villa has a wonderful panoramic forest and mountain view in Ovacık. There is a private swimming pool and a well-kept green garden. The interior and exterior design of the villa makes our guets feel special. It is especially preferred for those who like to be with nature and who are bored by the noise of the city center. In the triplex villas,
10 Kişilik

4 Y. Odası

3 Banyo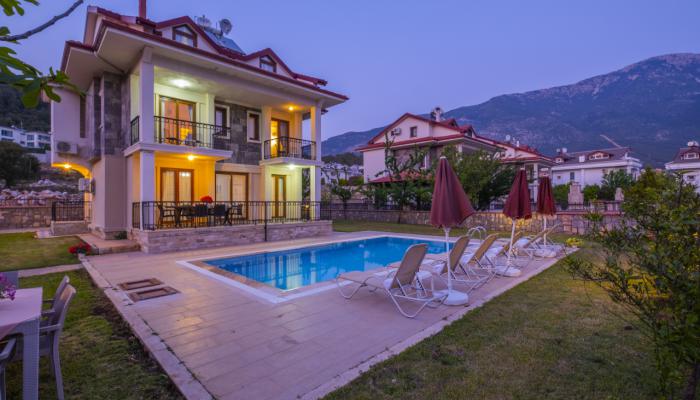 Opal Premium Villa
Opal Villa has its own pool, garden and 4 bedrooms with an accommodation capacity of 10 people. It is ideal for large families and large groups with its comfortable rooms.  It offers a holiday where you can enjoy the day with your family or friends in the large garden area and enjoy your dinner with our barbecue facility. Our villa with comfortable
10 Kişilik

4 Y. Odası

3 Banyo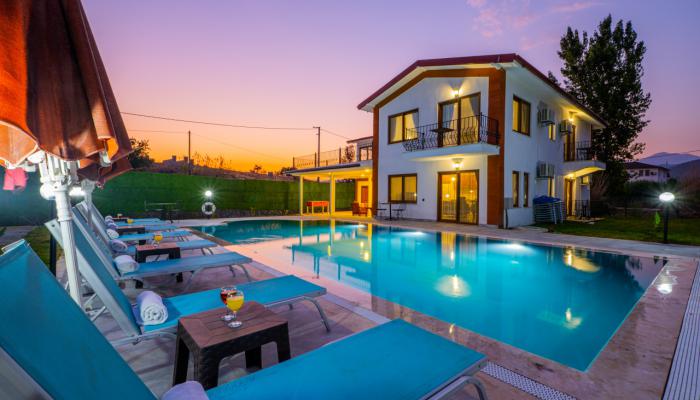 Ada Villa
Ada Villa has 6 bedrooms, each with en suite bathrooms with showers and toilets. All bedrooms have air conditioning for extra comfort, and incredibly comfortable beds. The private swimming pool terrace features a comfortable shaded living and dining area. There are also stylish sun beds for lounging and sunbathing. The outdoor spaces are highligh
16 Kişilik

6 Y. Odası

7 Banyo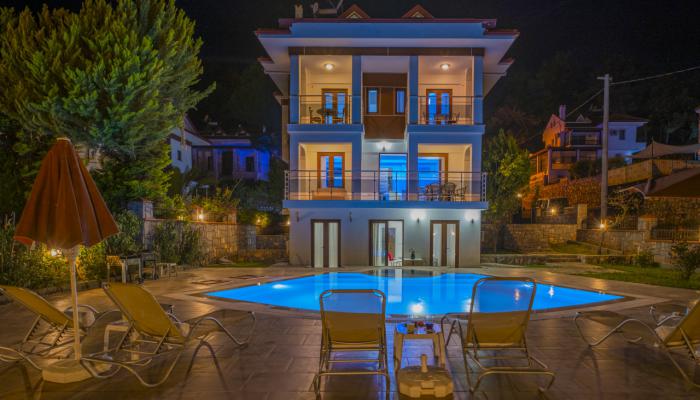 Olympia Dream Villa 1
From the moment that you arrive, you'll fell a sense of peace and tranquillity. This home from home is solid and impressive yet chic and welcoming at the same time. Olympia Dream Villa 1, sleeping 12 adults in five en suite bedrooms, is the perfect spot for larger groups and families with  children to relax and unwind.Located in Hisaronu.
12 Kişilik

5 Y. Odası

6 Banyo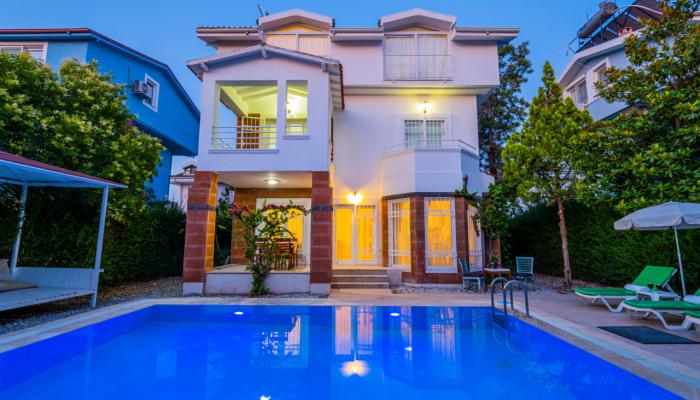 White Diamond Villa
For a unique holiday experience in Fethiye, Calis, if you want to experience a holiday where comfort and peace are felt at all times, you will find exactly what you are looking for in White Diamond Villa! Our villa has a capacity of twelve guests in five bedrooms. Each room of the villa, which has four bathrooms in total, is designed as a
12 Kişilik

5 Y. Odası

4 Banyo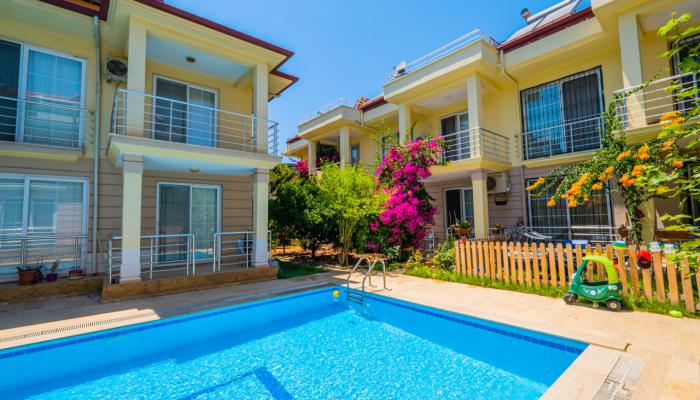 Rose Calis Beach Villa
Rose Calis Beach villa is in a great location. A communal swimming pool and a well-kept garden. The interior and exterior design of our villa makes you feel special. If you want to spend your day at the sea, it will be an advantage for you to be very close to Calis Beach. This villa, where you can have a good time with your family, has been carefu
11 Kişilik

4 Y. Odası

3 Banyo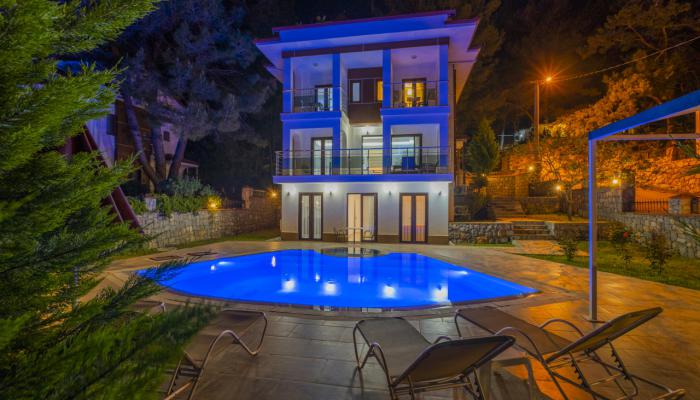 Olympia Dream Villa 2
Located in Ovacık, Fethiye, Infinity Dream Villa 2 is a triplex villa with a private pool for 12 people. Due to its location, it has a wonderful enchanting forest and mountain view. Consisting of 5 bedrooms, our villa has a double bed in 3 bedrooms and 2 beds in each of the 2 bedrooms. All bedrooms have air conditioning. 3 bedrooms have en-suite b
12 Kişilik

5 Y. Odası

6 Banyo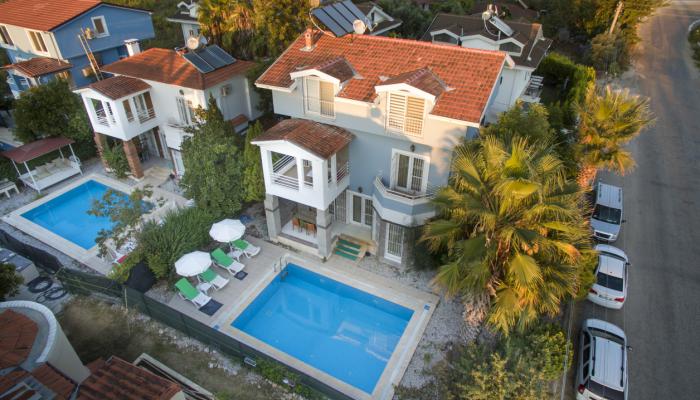 Blue Diamond Villa
Blue Diamond Villa is our villa with private pool located in Fethiye Calis. There is sufficient accommodation for large family groups. Our villa with a modern design has the capacity to accommodate a maximum of 10 people with sleeping facilities and has 4 bedrooms and 4 bathrooms. The first bedroom has a double bed, an en-suite bathroom, a jacuzzi
10 Kişilik

4 Y. Odası

4 Banyo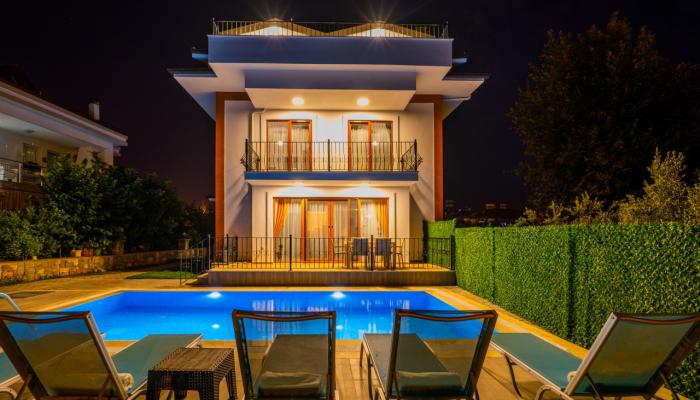 Myra Villa 1
Myra Villa 1 is a spacious five bedroom, four bathroom villa. All bedrooms are air conditioned. It is suitable for family or friends sharing. The dining room leads out to the pool complete with extensive  area. There is a seating area as well as a dining table for six.  Lots of space, comfortable seating.This is the perfect place to watch the sun
11 Kişilik

5 Y. Odası

4 Banyo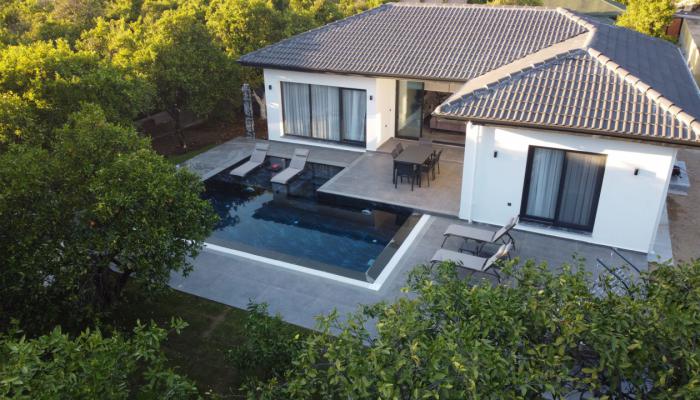 Villa Orange
4 Kişilik

2 Y. Odası

2 Banyo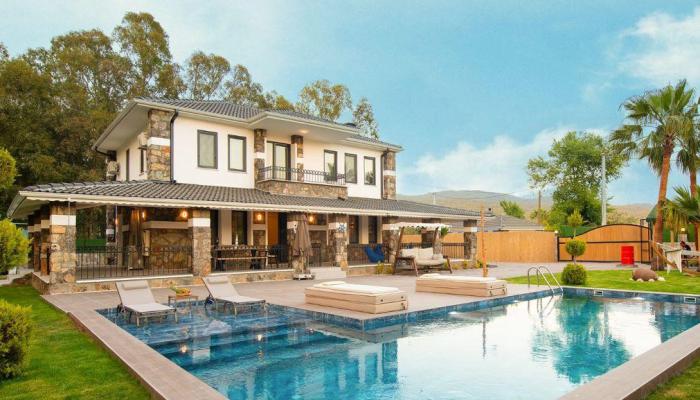 Şato Ocalyptüs
Şato Ocalyptüs
12 Kişilik

6 Y. Odası

5 Banyo
---